Responsible procurement is considered throughout all of LUPC's activities. One of our objectives is to enhance LUPC's position as a leader in Responsible Procurement and a big achievement has been to be awarded the Chartered Institute of Procurement & Supply (CIPS) Corporate Ethics Mark. 
The accreditation demonstrates our on-going commitment to responsible procurement practices.  To gain the accreditation, LUPC has taken proactive steps in the last 12 months to safeguard against unethical conduct in procurement and supply management, reinforcing our focus on sourcing responsibly.

The Ethical Procurement and Supply accreditation focuses on issues including corruption, fraud, bribery, exploitation, and human rights abuses in supply chains. LUPC has spent time and resource training and developing our Procurement Managers to a high ethical standard, as well as adopting the principles outlined in the CIPS Code of Ethics within our organisation. 

The accreditation demonstrates that LUPC has adopted and embedded ethical values in the way in which we source and manage suppliers.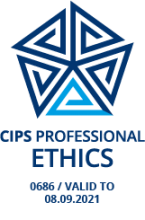 RESPONSIBLE PROCUREMENT POLICY 
Our Responsible Procurement Policy and Strategy has been drafted by our Responsible Procurement Advisory Group, made up of procurement managers, sustainability managers and students drawn from the membership, and has been endorsed by the LUPC Board and Executive Committee. The Policy and Strategy have a significantly positive sustainability, equality and diversity impact and it is designed to support members in achieving their Responsible Procurement aims and to deliver LUPC's goal "to become a leader in making ethical trading and sustainability available to our members".
RESPONSIBLE PROCUREMENT POLICY
RESPONSIBLE PROCUREMENT STRATEGY
SUSTAIN SUPPLY CHAIN CODE OF CONDUCT
LUPC is proud to be a Living Wage employer.  Read a paper we have written which explores the different wage options in the UK and considerations that should be made when procuring goods and services.  
LUPC has adopted and fully support the national Sustain Code of Conduct which is now included in all our tendering activity.